Schedule is updated throughout the day.
Gulf Shores
6:00 Melissa Joiner / High Tide
6:00
Brent Burns
/ LuLu's
6:30 Lisa Zanghi /
Nolan's*
7:00 Smokey Otis &
Mark LaBorde
/
Papa Rocco's*
The Wharf
7:00 Rusty Tabor / Hot Spot Music & Grub
Orange Beach
5:30
The Perdido Brothers
/ Flippers
6:00 Peoples Friend hosting open mic / Ginny Lane
6:00 Ronnie Presley / Tacky Jacks
6:00 Steve Wilkerson / Cosmos*
6:00 Ryan Conner / Wintzells*
1:00 Brittany Grimes / Main
5:30 Marty McIntosh / Dome
6
:00 Cathy Pace hosting Open Mic
/ Main
10:00 Smokin' Elvis' / Main
Pensacola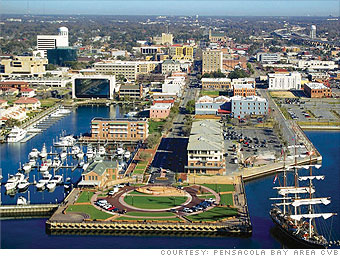 7:00 Forrest Higgins / Lili Marlene's
8:00 John Hart Project
/ Lili Marlene's
Pensacola Beach & Gulf Breeze
6:30 Jazz Jam / LaBrisa Restaurant
TONIGHT!!!! It's a JAZZ JAM @ La Brisa in Gulf Breeze, 6:30pm – 9:00pm at La Brisa Restaurant (formerly The Unique Cafe), 51 Gulf Breeze Parkway, Gulf Breeze (inside Bay Beach Resort, just across the 3-Mile Bridge from Pensacola)
The Jazz Jam begins at 6:30 p.m. Admission: $10 each for JSOP members and guests, $15 for non-members, $5 for students with ID, performing musicians are invited to sit-in and they are admitted free. STUDENTS WELCOME!
Roger Villines, trumpeter and dir
ector of the Pensacola State College Jazz Ensemble, leads the session, with a great professional "house band": Burt Kimberl (piano), Steve Gilmore (bass), and Fred Domulot (drums).
Performing musicians are invited to sit-in and they are admitted free. The beauty of a jam session is that one gets to hear combinations of musicians not likely to be heard elsewhere. Always fun! Usually a full house, so get there early for best seats. Special menu and full bar available.
Join the Jazz Society of Pensacola at this event and admission is FREE.
8:00 Damien Louviere / Bamboo Willies
* = Show repeats next week
Schedule and content are updated
throughout the day.
Please check back prior to your departure -
to confirm the show you are going to see
has not been updated.
We do not claim to be 100% accurate - but we try to be
with a little help from our friends....

~UPCOMING OUTREACH~